When JDT suspends your account, it means that your website has temporarily been taken offline. JDT can suspend websites for many reasons, like malware infection, excessive use of server resources, payment failures, and other policy violations.
When you, or anyone else for that matter, tries to visit your website, you will see a message saying that your account has been suspended. Moreover, you generally won't be able to log into your wp-admin or into your hosting provider account.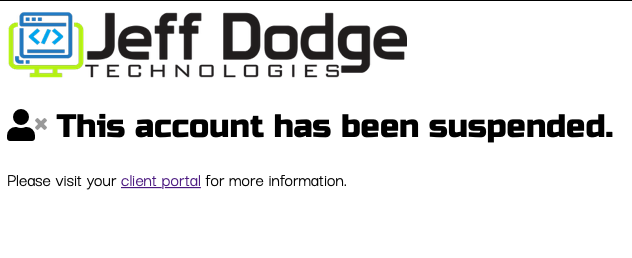 You might see one of the following messages:
This account has been suspended. Contact your hosting provider for more information.
This account has been suspended. Either the domain has been overused, or the reseller ran out of resources.
Your account has been suspended for security reasons.
This page is currently not available, as your account has been suspended.
This account has been suspended for violating our terms. Please contact us for more information.
Your hosting has been suspended. Please contact support for unsuspend terms.
This site is currently unavailable. If you're the owner of this website, please contact your hosting provider to get this resolved.
Or you could see your website redirected to the following URL: /cgi-sys/suspendedpage.cgi
We will send an email explaining why we have suspended your account, and what measures you should take to resolve the issue. For instance, if we detected malware on your website, we may whitelist IPs so that you can resolve the issue.
If you need assistance fixing your website please submit a ticket.